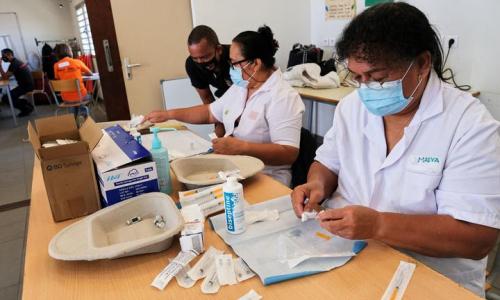 New Caledonia has launched a health pass for residents as it has begun easing restrictions imposed after last month's Covid-19 outbreak.
The pandemic has infected more than 9,000 people and killed more than 200.
The pass, which is needed for access to restaurants, museums and other venues, is available in an online version or as a printed document at townhalls.
It can be obtained once seven days have elapsed after the second jab of an mRNA vaccine and 28 days after obtaining other vaccines.
The pass is resisted by several groups, including unions, which also reject the local law-making vaccinations compulsory by the end of the year.
An urgent legal challenge to the vaccination order has been thrown out by the court, which found the measure was not disproportionate to the challenge of keeping the population safe.
In the face of the pandemic, an appeal to vaccinate was launched by a collective led by a parliamentarian Philippe Gomes.
Those endorsing the call include top politicians as well as leading sportspeople.
Source: RNZ