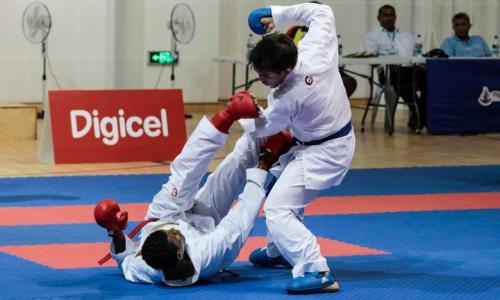 New Caledonia begins the second week of competition at the Mini Games with a commanding lead atop the medals table.
Les Cagous added six more gold medals to their tally on Saturday to take their total haul to 24.
The French territory won a further three gold medals in karate, the women's doubles in table tennis and the men's and women's individual titles in golf.
Fiji has leapfrogged Papua New Guinea and Samoa into second place with 15 gold medals after winning four para titles in table tennis.
PNG have been joined on 14 gold medals by Samoa, who beat Fiji to retain their rugby sevens title.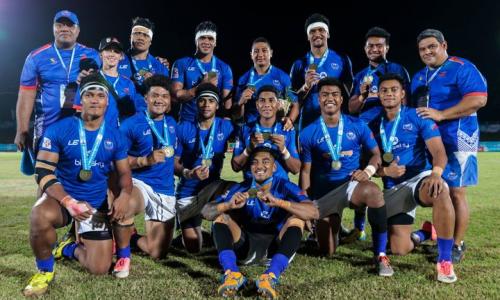 The Samoans edged arch rivals Fiji 14-7 in the gold medal match at Korman Stadium but the real prize went to Tonga.
The Kingdom defeated Solomon Islands 24-19 to win the bronze medal and, more importantly, a place at next year's Rugby World Cup Sevens in San Francisco.
Team Tonga Chef de Mission 'Amanaki Fakakovikaetau, said it was an important result.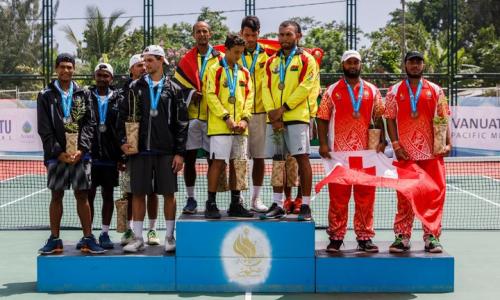 "The gap has been closing up, especially the skill level," he said.
"We were lucky we held off Solomon Islands to win the bronze and we played with, I think, six players for the last six minutes so it was a great effort by our team to hold on and win the bronze medal."
Hosts Vanuatu doubled their gold medal haul at the Mini Games to eight, after winning the men's teams tennis title, along with men's doubles and men's and women's singles events in table tennis.
Athletics headlines week two at Mini Games
The athletics programme gets underway at the Korman Stadium in Port Vila today.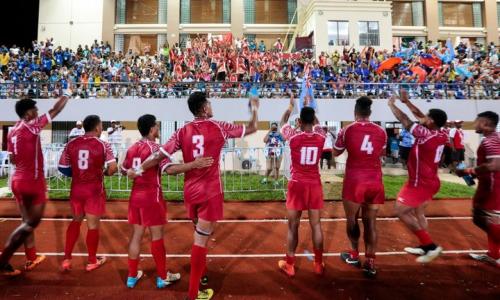 The men's and women's 10,000m are first out of the blocks bright and early, while medals will also be awarded in a range of other events, including men's javelin, women's long jump, men's high jump and women's shot put among other event.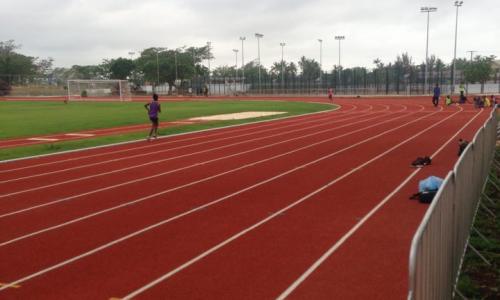 Team PNG Chef de Mission Emma Waiwai has high hopes their track and field stars will boost their overall medal haul.
"Well we've got Nelson Stone, we have Mowen Boino, we have Kupun Wisli – in the girls we've got Toea Wisil, we've got (an athlete) from the US that's just joined us and a few others like that," she said.
"We've got a few very good middle distance runners as well that are here so…hopefully there will be more gold than the other colours."
Star attraction
Vanuatu's beach volleyball stars will make a rare appearance on home soil at the Pacific Mini Games.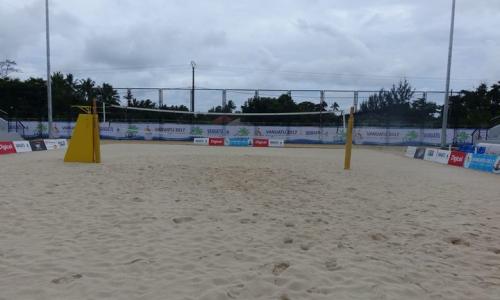 The women's team of Linline Matauatu and Loti Joe begin their quest for the gold medal on Monday at Korman.
Matauatu and regular partner Miller Pata finished in a share of 17th place at the 2015 World Cup, while Joe was a part of the Vanuatu team that won silver at the Pacific Games in Papua New Guinea two years ago.
Loti Joe steps up to partner Linline Matauatu on home soil, with Pata recently giving birth, and Vanuatu Volleyball President Debbie Masaufakalo said they can't wait to get underway.
"Everybody's excited in the country – they don't have a opportunity to see the girls play at the high standard so everyone's excited in the country, she said.
"There's going to be a lot of people down here (at the Korman Complex) supporting – it's the first time that they can actually see the girls play in competition so everyone's excited and we look forward to a very successful event."
"Vanuatu has had its ups and downs throughout the ten years of our whole programme and it's going to be one of the highlights of the girls' careers, being able to play here on home soil in front of their fans and show Vanuatu how good they are."
Debbie Masaufakalo said the new beach volleyball courts built for the Mini Games will also have lasting benefits for the sport in Vanuatu.
"We can now host bigger international events – maybe we're going to host Asian Tour events," she said.
"We've also put our hand up to host the Asian Youth Olympics qualification event, which the Asian Volleyball Confederation are keen for us to host next year."
Source: RadioNZ