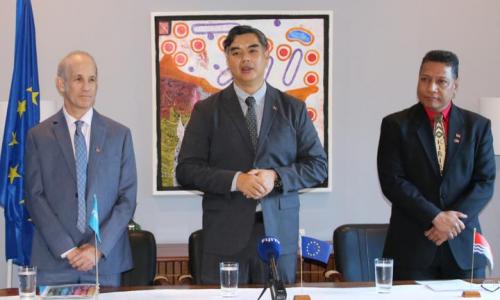 A partnership has been launched between Kiribati, the European Union and UNICEF to improve water, sanitation and hygiene in the Line and Phoenix Groups.
About 11,000 people live in the group, including 4000 children, who attend 12 schools and 28 kindergartens.
The EU will provide about $US7 million during the four-and-a-half year project to install and repair infrastructure, and to promote hygiene.
The EU's Pacific ambassador, Sujiro Seam, said the support aligned with the priorities of Kiribati to promote the outer islands of the group.
"This EU assistance, to be implemented by UNICEF, also shows a continued commitment to the multilateral system, under the umbrella of the United Nations," Mr Seam said.
UNICEF's Sheldon Yett said the project could tackle Kiribati's infant mortality rate, which is one of the highest in the Pacific.
"One of the major contributing factors to this is the poor water and sanitation and that's particularly acute in the very remote Line Islands," Mr Yett said.
"That's why the government of Kiribati wants to focus on this part of the country. It's very remote, one out of every two children do not have access to good sanitation."
The Kiribati High Commissioner to Fiji, David Teaabo, said the project would elevate health and livelihoods in the outer islands
"In the expectations and voices of the people of the Line Group, who are the centre and key beneficiaries of this project, we look forward to have a resilient water, sanitation and hygiene infrastructure that can stand the impacts of climate change," Mr Teaabo said.
Mr Yett said the first part of the project was about promoting the importance of good hygiene, while the second was about infrastructure.
"Making sure that schools and early childhood education centres have access to better sanitation and better water supply," he said.
"Third is working on a financing plan with households themselves so that they have a better incentive to put in the best infrastructure possible."
Mr Yett said the project could relieve population pressure on Tarawa by encouraging migration to the Line Group, which includes Kiritimati Island.
Source: RNZ