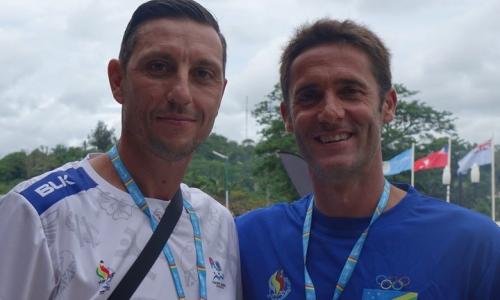 Fiji and Solomon Islands are both demanding improvements from their players in today's men's football clash at the Mini Games in Vanuatu.
The Fijians thrashed Tuvalu 8-0 in Saturday's opening round, while Solomon Islands racked up the same scoreline against Tonga.
Fiji coach Christophe Gamel said despite the lopsided scoreline they made a number of big mistakes, which they couldn't afford to repeat against the Bonitos.
"We know their values, they are technical players. Let's see, it will be interesting for the youth also and for me to compete against this team, it's always interesting," Gamel said.
Solomon Islands coach Felipe Vega-Arango is taking more of a long term approach.
"The main challenge for me is not just against Fiji, it's for them to raise the level and to think when they play because sometimes they play too much like instinct, they running and kicking," he said.
"I want them to think; why do you make the pass? Why do you run there? All those things are the only way to reach the next level in football."
Both Fiji and Solomon Islands have selected youthful teams to compete for the Mini Games.
Christophe Gamel said he's had to make a number of changes from the side that hosted Estonia last month.
"Seven of them are there but the others no, because there was a mistake in the registration and my main players in the midfield, some they are not there but it's good because I have to manage in another way and let's see how the youth will perform."
Felipe Vega-Arango is also putting his faith in youth but has the added challenges of being short-handed for the remainder of the games.
"I have a lot of people that are 20 or 21 years old and we don't have that much numbers.
"We only have 17 players and one of them got injured so 16 players for the four remaining games, which is not really good but we'll see," Vega-Arango said.
Meanwhile Tuvalu upset New Caledonia 2-1 last night to pick up their first points of the competition.
Vanuatu take on Tonga in tonight's late match.
Source: RadioNZ