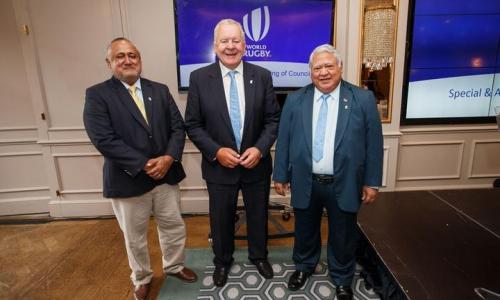 Francis Kean is standing down as chair of the Fiji Rugby Union (FRU) after a controversial five year term.
The former navy commander, who was convicted of manslaughter in 2007, was appointed to the role by Fiji's Prime Minister Frank Bainimarama, who is also his brother in law and President of the FRU.
In April, he stood down from the World Rugby Council and withdrew his nomination for a seat on its influential Executive Committee following allegations of homophobia published in the Sunday Times and a damning open letter to voting members by former Samoa international Dan Leo.
World Rugby launched an independent-led governance review process on 17 June, which examined the criteria for prospective council and elected members, but has yet to report any findings.
In a statement, FRU CEO John O'Connor said Kean would "rotate out from the Fiji Rugby Board as per the Fiji Rugby constitution", with Conway Beg confirmed as the Prime Minister's new appointee.
O'Connor said Mr Kean "spearheaded the major transformation" of Fiji Rugby over the past five years and claimed that "without the dynamic, visionary and frank leadership style of Commander Kean, Fiji Rugby would still be stuck in the swamp of mediocrity".
He said a first ever strategic plan for Fiji Rugby, a new FRU constitution and bids for a World Rugby Sevens tournament, Super Rugby team and a seat on the World Rugby Council were among Kean's major achievements.
Fiji's bid to host a World Sevens Series tournament was unsuccessful, however, New Zealand Rugby has offered to alternate the hosting of the Hamilton leg with Fiji at some point.
Plans to base a Super Rugby team in Fiji fell through because of a lack of funding.
O'Connor also cited a provincial women's competition, four consecutive years of surplus and an increased financial portfolio as positive developments during Kean's term, and claimed Fiji was "on the verge of joining the Six Nations Rugby Competition" and having Super Rugby New Zealand and Australia "knocking on our doors".
"This is a testament to his leadership ability over the last five years, operating smartly and tactfully when required plus using leverage of being a council member for the benefit to Fiji Rugby."
Source: RNZ