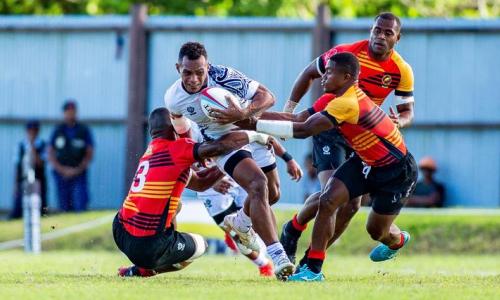 The Fiji Rugby Union is planning another domestic sevens series as Covid-19 continues to disrupt the international sevens calendar.
The inaugural 'Super 7s Series' was held earlier this year to help Fiji's preparation for the Olympic Games.
The Fiji men's and women's sevens teams are due to resume training in Suva later this month, after a six week break following their success in Tokyo.
The men's World Series returns next weekend, with back to back tournaments in Canada that will determine the 2021 series champion, but Fiji are among a host of top nations who won't be present.
Fiji Rugby CEO John O'Connor said they plan to host another domestic Super 7s Series, to help their men and women prepare for a return to international competition.
He said the first leg would take place before the Dubai 7s, which is staging back to back tournaments in November and December to kick off the 2022 World Series.
"We plan to kick off before Dubai and continue next year as we did this year irrespective of HSBC Series calendar," he said.
"Depending on the number of HSBC Series (events), we will determine the number of tournament in the Series to prepare our teams for the Commonwealth (Games in Birmingham) and World Cup (Sevens in Cape Town)."
16 men's teams and four women's teams featured in the inaugural Super 7s Series in Fiji, which staged three tournaments before being forced to stop because of an outbreak of Covid-19.
John O'Connor said after spending the close to five months away from their families this year, the Fiji teams don't want to spend more time stuck in Covid bubbles and hotel rooms.
"Quarantine is our major challenge (in attending international tournaments) since most players seem to have had enough of quarantine."
Fiji men's coach Gareth Baber is currently in Wales with his family. The gold medal winning coach is off contract at the end of the year and John O'Connor said he doesn't plan to return to Fiji until quarantine restrictions are lifted.
Resource: RNZ