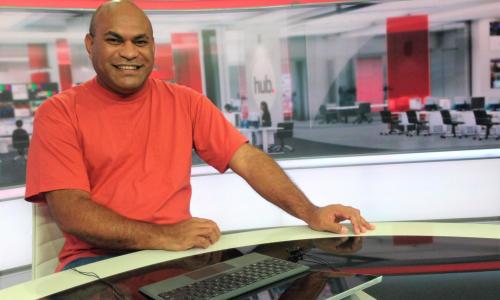 Pacific Cooperation Broadcasting Limited's (PCBL) recent inaugural Media Exchange Programme (MEP) has been an eye-opener for Cook Islands Television Programming and Presentation Manager Temo Sukanaivalu (pictured).
Temo has worked in the industry for 17 years, but participating in the two-week exchange programme has enabled him to see how digitilisation has changed the industry, while opening a "can of worms" for his organisation, which still uses an analog platform.
The MEP got underway in May, with an initial four broadcasters arriving in Auckland for a two-week placement, at either TVNZ or MediaWorks.  A second group of four started their placement on June 5, where they were mentored by media operators and engineers.  The overall goal of the MEP is to provide insight, knowledge and hands-on experience for Pacific media operators, to take back to their respective TV stations to implement and/or improve their capabilities, current systems and output.
Temo says the exchange has been invaluable in that it has extended his industry knowledge.
He shares his exchange experience with us …
Q. What is your current role?
A. My current role is Programming and Presentation Manager at Cook Islands Television. I basically receive programmes off satellites and put them on air. I also do sports news and produce a weekly half hour local sports programme called Timeout.
Q. Were you chosen to attend the MEP training, or did you put your hand up to go?
A. I was chosen by my boss Jeanne Matenga, the Chief Executive Officer for Cook Islands Television.
Q. Did you find the training valuable?
A. Yes. Coming from a small TV company and seeing how television industries have changed in terms of digitalisation has opened up a can of worms for us, as we are still using the analog platform. It was an eye opener for me.
Q. How will you use the skills and knowledge that you've gained in your home country?
A. I will share it with my colleagues and work with what we've got, in terms of equipment.
Q. Did you face any challenges, and how did you overcome these?
A. The challenge I faced was walking underneath Auckland Harbour Bridge, carrying live equipment to do a live report about bungy jumping. I wasn't expecting that long walk, but I guess, part of being a cameraman is to be fit and healthy, especially going places you'd never think of going. I'm glad I was there, witnessing live coverage back to different platforms.