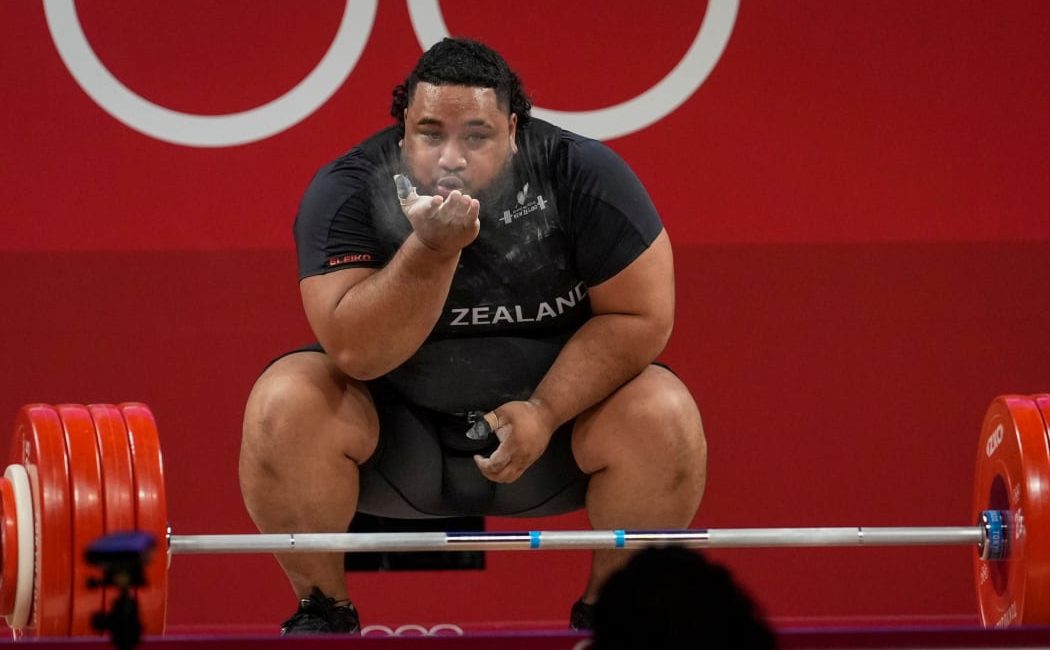 Don't be fooled by the big smile – weightlifter David Liti gets nervous when he walks out to the stage and doesn't mind admitting he's feeling pressure ahead of his second Commonwealth Games.
It's easy to see the relaxed persona and think nerves don't get to him but they are definitely there.
"For sure man, I like get shit scared you know. Even at the Olympics a lot of people thought that I was really confident and I had it in the bag, but deep down inside I was really s******* myself," Liti said.
At his first Commonwealth Games in 2018 the weightlifter had the freedom that comes with being a relative unknown.
But by the end of the Gold Coast games, New Zealanders knew the name David Liti, after he won gold in the 105kg+ division at just 21 years old.
The gentle giant also won hearts and minds on the Gold Coast – awarded the David Dixon Award for sportsmanship shown towards his injured weightlifting rival.
The Commonwealth Games in Birmingham, which gets underway on the 28th of July, are going to feel very different for Liti, who'll be competing in the 109+kg division.
The 26-year-old admitted he felt the pressure that inevitably comes when expectations are high.
"As much as I try to deny it deep down inside, I know for myself that the pressure is a lot bigger this time around.
"Because I am ahead of my competitors by about 15 kilos I think the pressure is a lot bigger, because everybody just expects me to come out and win.
"You can't really deny that they will be working hard from their last competitions and now they'll be coming out to give me a run for my money.
"Not that I'll give out easily. I will definitely die trying for this gold but I do feel the pressure is there. But at the same time I don't think I perform without pressure, so with this pressure I know that I'll pull something out."
Liti, who performed well with a fifth place at the Tokyo Olympics last year, said the wait before a lifter headed out to the stage was intense.
He said it depended on the athlete whether they liked to have their coach give them last minute advice or not.
"Some athletes don't like it when coaches or people talk to them while they're concentrating back stage. Some athletes like that kind of comforting and assurance within their concentration periods, but for myself, I like to just keep my thoughts to myself.
"If I really need help or comforting I reach out to my coach Tina but yeah most of the time, I just like to keep my headspace the same and not change anything."
Long-time coach Tina Ball will be by Liti's side in Birmingham and won't say anything to Liti before he heads out for a lift.
"Because words and all that kind of stuff can change one person's mood and thoughts going into a lift, so it's more of the relationship between the coach and an athlete.
"Tina understands, just let me be and whatever works for my concentration works, and yeah she just puts the numbers up there for me and I do my job and I go out there and lift the weights."
After a somewhat sterile environment at the Tokyo Olympics when Covid-19 protocols were in full force, Liti is looking forward to feeding off a crowd again.
"To have a little bit of noise around and people cheering it really does help with the fire and with the push.
"Hopefully it's a lively loud one, the same as on the Gold Coast but I guess we'll just find out once we get there."