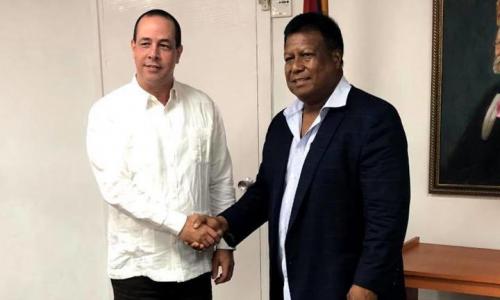 Palau's Permanent Mission to the UN says the government of Cuba has offered to dispatch a medical brigade to assist the republic in building defenses against Covid-19.
The deployment of medical personnel from Cuba would be made "when commercial travel to Palau becomes possible again."
Cuba was planning to send two doctors, three nurses and a team supervisor to Palau.
The Caribbean nation had been providing assistance through their doctors around the world, from Italy to Venezuela and Nicaragua, Jamaica, Suriname and Grenada.
Ngedikes Olai Uludong, the Permanent Representative of Palau to the UN and non-resident Ambassador of Palau to Cuba, said the Cuban government had also offered virtual expert advice to the Ministry of Health through video conferences with specialists from the Pedro Kouri Institute of Tropical Medicine in Havana.
"We are immensely appreciative of the Cuban government's generous offer to support Palau, especially during this time of great uncertainty when Cuba herself is fighting the spread of the coronavirus," said Palau's Minister of Health, Emais Roberts.
"We want to express our deep condolences at the tragic loss of life in Cuba to the virus."
"While we are separated across the ocean, we are also two island states and over the years we have been able to build up a strong health partnership," Dr Roberts added.
He said Cuba's health expertise and successes were known around the world and from the start of the pandemic Cuiba had shown its commitment to share with the world.
The minister said despite the fact Cuba faced a long-running embargo from the US that made "travel, procurement and investment immensely difficult," it had been a strong ally to Palau.
Ngedikes Olai Uludong said there are four Palauan students who are now in Cuba undertaking their medical training.
The Palauan students were supported by scholarships at the Latin American School of Medicine (the Escuela Latinoamericana de Medicina, ELAM).
They are Demei Yobach, Bernadette Hosei, Zara Mara Siang, and Lara Reklai.
Two other Palauan students completed their training last year.
Ms Uludong said that she was in constant communication with the current students.
"They have reported that Cuba's own social distancing measures and movement controls mean that their studies have had to be disrupted.
"While there have been long waits at grocery shops, and accessing further financial support from outside Cuba has been challenging due to the embargo, they told me that they feel safe and secure."
The ambassador said she was glad that with the support of Palau's friends, additional support was able to be delivered to the students.
Foreign embassies in Cuba, like Seychelles, had helped the students access healthcare supplies along with private donations from friends to help cover additional expenses.
"Palau has a strong partnership with Cuba, in the health sector as well as in other areas of international affairs, such as climate change and sustainable development. Its support during this pandemic is a testament to the strength of this partnership, and her determination to support South-South cooperation to global challenges," Ms Uludong said.
Source: RNZ