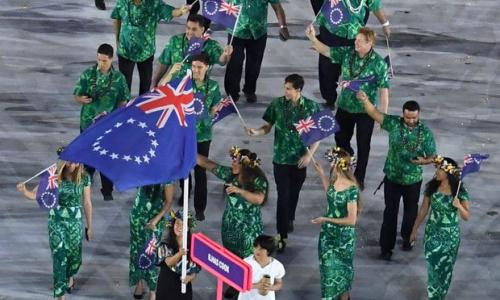 Cook Islands believe their Olympic campaign in Rio has been a success despite missing on most of their targets.
Weightlifter Luisa Peters was the country's final athlete to compete on Monday, in the women's over 75kg division.
The 23 year old, who was attending her second Olympic Games, had been hoping to break the national record of of 227kg set earlier this year but fell 3kg shy of her previous mark.
Cook Islands Chef de Mission in Rio, Robert Graham, said he's proud of the efforts of all their athletes.
"They've done an outstanding job, I'm proud of all of them. We might not have won any medals or been qualified for the finals but my nine athletes are all winners. They've gone out of their way over the last four years to get them ready to represent their little, small country of Cook Islands here, amongst the world's best at the Olympics, and I think they've done an awesome job."
Robert Graham said he was also proud of the reaction their entrance at the Opening Ceremony made, albeit not on the same scale as Tonga and Pita Taufatofua.
"When Pita walked out (in) traditional wear Tongan holding the flag you can guarantee 99 percent of the women in the stadium all eyes were on him and the TV channels were switched on for him," he said.
"For the Cook Islands I felt really proud the day after because on social media as well as some of the top newspapers around the world classed the Cook Islands in the top ten best-dressed teams – not even the United States or France or New Zealand was in that category.
"I think it's just us, our way, the Polynesian way, the Island way. That's our nature, we're bright, always happy and excited to be part of the Games…It's just another step forward for us to focus on 2020. A lot of the smaller countries from Oceania are being recognised – in the past they just focused on the big countries."
Siblings Bryden and Ella Nicholas, who were the first competitors in Rio for Cook Islands, missed out on the semi finals in the men's and women's K1 Canoe Slalom.
Swimmer Tracy Keith-Matchitt was 38th in the women's 100m freestyle heats in a time of 58.99 seconds, while Wesley Roberts was 44th in the men's 1500m freestyle in 15:44.32.
Sailor Teau McKenzie finished 35th in the Laser Radial Women rankings while compatriot Peter Elisa Henry finished 44th in the Laser men's event.
On the track, Patricia Taea clocked 12.30 seconds in the women's 100m preliminaries and 12.41 seconds in the first round, while Alex Beddoes was 51st in the men's 800m in 1:52.76.
Source: RadioNZ