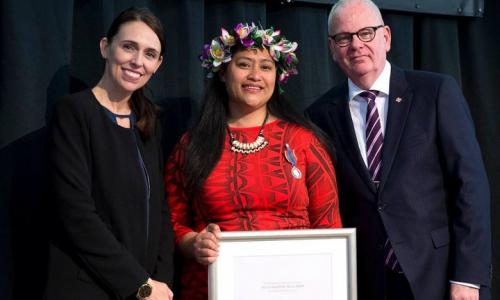 A Samoan woman behind an innovative internship programme linking Pasifika to the public sector has been recognised in New Zealand's inaugural Public Service Medals.
Matalena Leaupepe was one of five people presented with a medal by Prime Minister Jacinda Ardern.
Ms Leaupepe was recognised for her work building relationships between Pasifika and the public sector.
She was Chief Advisor, Pasifika for the Ministry of Business, Innovation and Employment before being appointed Director of the Government Centre for Dispute Resolution in September.
Ms Leaupepe launched the Tupu Tai internship programme in 2016, which has seen dozens of Pasifika graduates and students work in the public service.
She rated it as a career highlight.
"Tupu Tai has not only created pathways into the public sector, it has taught the public sector how to receive and work with Pacific people," she said.
Ms Leaupepe hoped that Tupu Tai would help the public sector become more diverse.
"We bring innovation, creativity, life and laughter to the work that we do so I hope this is a sampler of what the future of the public sector might look like in the very near future."
The CEO of the Ministry of Business, Innovation and Employment, Carolyn Tremain, paid tribute to Ms Leaupepe, saying she personified the spirit of service.
"She has taken her position and managed to create something for the public sector as a whole," she said.
"She started with very small beginnings and a limited budget and what we have seen over the last three years is the growth of a very important internship programme for Pasifika people."
The CEO of the Ministry of Pacific Peoples, Laulu Mac Leauanae, said Ms Leaupepe epitomised the sense of service that was captured in the Samoan expression, 'o le ala ile pule o le tautua' or 'the pathway to leadership is through service'.
Laulu said she had honoured her family, her village and the Pacific with her work.
One intern, Sina Ete, said Ms Leaupepe was an inspiration for young Pasifika.
"Seeing Matalena succeed and seeing her make a way for us young Pacific people has really inspired me and has really made me realise that I can be in the public service and I can be there because she is so right when she says that our young people need to see their leaders reflect them."
Ms Ete also backed the call for diversity.
"I don't believe that you can come up with solutions that actually improve outcomes for everyone if the leadership is just representative of Pakeha males," she said.
Ms Leaupepe saw her impact in the Pasifika community as just part of being a leader.
"You sometimes forget that the younger generation are looking up and are wanting to learn so I think I am simply fulfilling my role as a leader in this space by hopefully encouraging and inspiring the next generation."
Youth justice worker, Kyle Kuiti, and Memorials manager Brodie Stubbs were also awarded Public Service Medals alongside Director of Education, Isabel Evans who has Fijian heritage.
Miriama Evans, who earned the title of 'Wahine Toa' for her efforts in promoting Maori interests, was presented with a medal posthumously.
SOURCE: RNZ PACIFIC – KORO VAKAUTA