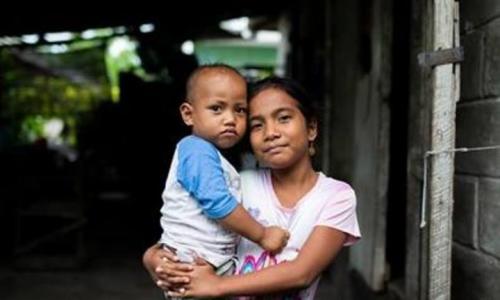 The charity ChildFund has gone into partnership with the New Zealand government to improve well-being in the Asia Pacific region.
The $US7.3 million 'Impact programme,' to which New Zealand's foreign ministry will contribute about $US5.6 million, targets children, youth and their families in
Kiribati, Papua New Guinea, Timor-Leste, Cambodia, Vietnam, and Solomon Islands over the next five years.
ChildFund New Zealand's chief executive Paul Brown said he was "very pleased" 18 months spent developing a proposal for the ministry's "negotiated partnership scheme" had come to fruition.
"Now we are at a point where we can celebrate and say, 'yes, we've secured the partnership and we can get on with the work'.
"A child thrives when a whole series of conditions are met. They have a good start life, they have a loving family, they're well fed, nourished, they've got access to clean water and sanitation, they're getting age appropriate education, they're protected and safe, they have a positive outlook on life, and a good sense of well being. Vulnerability comes in when one of those things isn't being met."
Kiribati
In the Pacific, ChildFund New Zealand has been supporting work in Kiribati for the last four years, efforts set to be invigorated by the Impact programme's key focus areas: education, child protection and disaster risk management.
"We've learned in Kiribati a lot of kids drop out of school in their early teens and that's a result of their parents being unable to afford a school uniform. So, they can't send their kids to school, the kids drop out they drift, and do what teenagers do, they get into inappropriate behaviors, dangerous behaviors and
are out of work," Mr Bown said.
"So, our focus on education in Kiribati through this programme is targeting 15 to 30 year olds, so providing them with mentoring, supporting them and engaging them to continue their education. So, we've formed a bridging programme which targets those young adults to say, 'well how do we get you back into more formal education? But before we do that, let's work on your basic literacy, your basic numeracy', and make sure they've still got strong social and emotional well being so that when they've gone through that bridging programme, they're primed and ready to take up tertiary education for instance at the Kiribati Institute of Technology."
Informing the charity's work in Kiribati is a team of 10 agents and youth volunteers who go door-to-door, "building trust with families" in Besio, the most densely populated and "overcrowded" part of the capital, South Tarawa.
"Our focus there is to inform, coach, train and mentor parents to be positive parents, to provide protection for their children, to understand the causes and reduce violence against children."
Working at a household level has also helped ChildFund to identify the disaster risks in South Tarawa.
"Kiribati seems to be out of the cyclone path, it doesn't seem to be in an area that is prone to tsunami so we have learned through consulting the community is the biggest risk they face in living in such densely populated conditions is the risk of fire," Mr Bown said.
"So we're working with households to train them in how to prevent fire spreading. To have an extinguisher at hand which might be a bucket of sand to put out any fire that may arise.
"The other risk in Kiribati is there's not much access to clean water – so we provide a lot of water testing kits and training."
Papua New Guinea
In PNG, the Impact programme will extend the work of ChildFund Australia's Rights, Resilience and Respect project, which includes a focus on the right to sexual reproductive health and understanding what constitutes a healthy relationship.
"So we're working to develop new parts of the school curriculum to help youth transition to adulthood. It's complex, it's sensitive and we work closely with the government and communities to make sure it's meaningful,"
A mark of the charity's success in PNG is its domestic abuse hotline the '1-Tok Kaunselin Helpim Lain,' which has become a 24-hour service since being set up four years ago. Initially aimed at women, ChildFund was surprised when half of its callers were men.
"Men who had been victims of violence themselves when they were younger or men who are about to perpetrate," Mr Bown said.
Solomon Islands
In Solomon Islands, about 70 percent of the population is under the age of 35, a stark reminder of the Pacific's so called 'Youth Bulge' demographic. There, Child Fund has identified a "vacuum" in the provision of life skills and "psychosocial competence" for youth.
"So over the next five years we are going to be working with the Honiara City Council and the Honiara Youth Council to establish a system where we can train youth to be provide support for other youth. We're hoping to get up to 60 youth workers trained and a further eight counsellors," Mr Brown said.
"There's a lot of challengers that youth face there after many years of unrest."
Source: RNZ