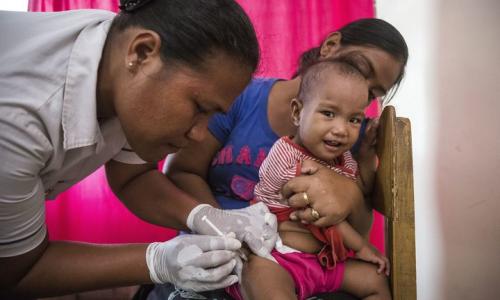 UNICEF says vaccination programmes for children in the Pacific have made significant progress, but great challenges remain.
The United Nations children's agency says most of the region's countries have reached, or are close to reaching, a target of 90 percent of children immunised against serious illnesses.
But an estimated 1,700 children in the Pacific still die because of vaccine-preventable illnesses.
UNICEF's Cate Heinrich said overcoming several hurdles that remained would prove a real challenge.
"There are a lot of challenges in the Pacific Islands. A lot relate to getting the vaccine to the communities. So the geographical challenges here are really immense, like long journeys across sea, across mountains," she said.
"Sometimes there's a shortage or they're not able to access the vaccine or afford the vaccine, for example."
Cate Heinrich said several initiatives – both at the national and international level – were working to overcome this.
World Immunisation Week is currently being marked in the region with the theme: Reaching every child in the Pacific with vaccines vital to save lives.
SOURCE:  Radio NZ News