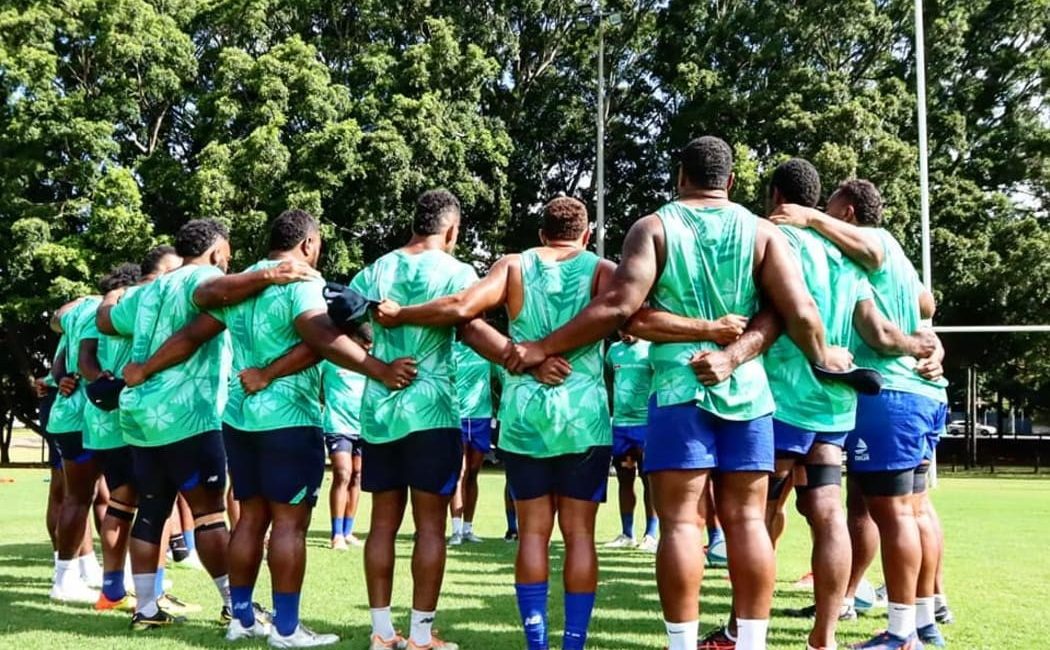 Fiji Drua, who had a badly disrupted debut Super Rugby Pacific season, have been given a boost with several of their 2023 games to be played in Fiji.
Their first home game of the season, against the Waratahs, is on Saturday, March 4.
But their opening 2023 season game is in Auckland, when they face fellow newcomers Moana Pasifika in a regional boil-up.
Fiji Drua go into the match having won their two pre-season games, 24-0 against the Melbourne Rebels, and 48-38 versus the Western Force last Thursday.
Coach Mick Byrne said they go into the season on a better footing.
"We've had a good pre-season this year unlike last year. This pre-season has lasted 17 weeks, so it has been good for fitness," Byrne told RNZ Pacific.
"We went well against the Force, but we still have a few things we need to change.
"The team is coming along, there are a few things to work on as you do every year. Having our second year with a really good squad leading up to our first game is crucial.
"We want to win as many games as possible and I think the playoffs are a realistic possibility, but we are coming up against some really good teams. But we will be eyeing up the playoffs."
Byrne had his squad running up the legendary Sigatoka sand hills as part of the preparations and they are relieved to be based in Fiji. Last year they had to base themselves in Australia because of covid-19 concerns.
"The disruptions last year affected us badly, having to travel to games on little planes and the floods in Australia, players introducing themselves five weeks out of our first game, and not having home games all affected us badly. It was chaotic last year," he said.
"We're in a lot better shape this year and we are really excited about what it means to us."
Playing at home
There is the added bonus of having six games in Fiji which Byrne believes will make the squad confident of being able to foot it with the best.
The Drua were based at the New South Wales Sport and Recreation Centre in Lennox Head, Australia last season.
"Thankfully, we have some home games this year and that will be good for the boys' confidence," he said.
Playing in Fiji this year are 2022 champions Crusaders who play the Drua in the third week of the competition, followed by 2022 finalists Blues, Melbourne Rebels, Queensland Reds, Moana Pasifika and Hurricanes.
For its away games in 2023, the Drua will travel to Auckland, Brisbane, Dunedin, Canberra, Hamilton, Perth and Sydney.
The coach acknowledged Saturday's season opener against Moana Pasifika in Auckland would be a tough assignment.
Drua beat Moana Pasifika 34-19 in their only meeting last year.
"They will be physical, and you can't expect anything different, they move well and are fast around the field. They are big and rangy so we're expecting a hard game."
He said it remained to be seen what the crowd at the game would be like.
However, he anticipated that the second season in Super Rugby Pacific will have benefits for the national side, the Flying Fijians, and vice versa for the Fiji Drua.
"Our Flying Fijians will also bring back their international experience into our environment," Byrne said.
"The experience of having two seasons in Super Rugby Pacific will no doubt help the Flying Fijians at the World Cup. I'm expecting up to 13 of the Fiji Drua will go to the World Cup and that will help develop rugby back in Fiji," he said.
The 12-member squad is made up of Fiji's finest emerging players from the Deans and Skipper Cup competitions.
Byrne said the development team's presence in Nadi provides future local Pacific players an easier pathway to a professional rugby career.
"What we are able to do now is provide this facility for those players who have been looking and asking, 'how do I become a professional rugby player? What is my pathway?'
"Now that there is a team here in Fiji, they now have a clear path. Now they are getting their chance, it's quite nice for them, but they need more time with the team," he said.
'We have a job to do'
With all the wrangling in Fiji Rugby this month with Vern Cotter resigning as Flying Fijians coach and talk around Scott Robertson being offered the position, Byrne had his hand firmly on the tiller of the Fiji Drua.
"The Flying Fijians losing coach Vern Cotter doesn't have anything to do with us. We just carry on with business as usual.
"We have a job to do in Super Rugby and that is what I am concentrating on."
Losing wing Vinaya Habosi two weeks ago for a "high level breach" of his contract with Fiji Drua was a diversion a fortnight ago.
"Vinaya Habosi having his contract terminated was a distraction for the whole organisation two weeks back, but we have moved on and now the guys are fully focused on the job ahead," Byrne said.
"As far as Habosi goes, we can only wish him the best for his future endeavours," he said of the winger who has gone to Europe to play with French club Racing 92.
This week the Fiji Drua named Habosi's replacement as 33-year-old Eroni Sau from French second division club Provence.
"This is a homecoming for Eroni who is internationally recognised as a centre or wing," Byrne said. "He is fierce both in attack and defence."
Returning this year are Flying Fijians Teti Tela, Frank Lomani, centres Kalaveti Rauvouvou, Apisalome Vota, looseforwards Kitione Salawa, Te Ahiwaru Cirikadaveta and Joseva Tamani.
Fiji Drua farewelled from their ranks last year's captain Nemani Nagusa, Onisi Ratave, Manasa Saulo, Jone Mataciwa, Viliame Rarasea and Leone Nawai.