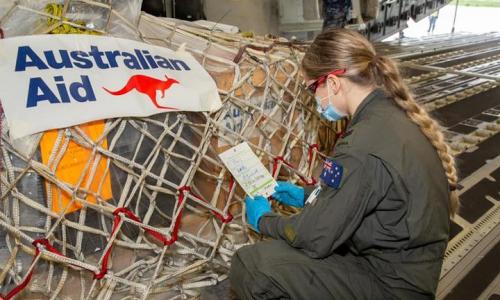 An Australian military aircraft has landed in Honiara – the first of two flights carrying emergency medical supplies to support the Solomon Islands' response to an escalating Covid-19 outbreak.
The 19-tonne cargo includes 100 oxygen concentrators and PPE, medical supplies and equipment to help manage and contain the outbreak.
The flights will also deliver a total of six tonnes of UNICEF emergency water and sanitation and dignity kits.
The Australian Government is also arranging to send a new GeneXpert machine and equipment for Covid-19 test processing plus a mobile cool room and back-up incinerator for waste management for the National Referral Hospital; and a replacement forklift and new incinerator for the National Medical Stores.
Australia's Minister for International Development and the Pacific, Senator Zed Seselja said the latest support came on top of more than two-hundred-and 63-thousand AstraZeneca vaccines doses Australia has delivered since the beginning of the pandemic.
Source: RNZ