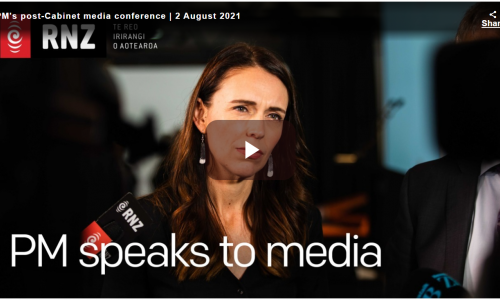 Seasonal workers from Tonga, Samoa and Vanuatu will be allowed into the country without having to go into managed isolation from September, the government says.
In a post-Cabinet media briefing this afternoon, Ardern announced Cabinet had made the decision to allow Recognised Seasonal Employer (RSE) workers from those countries to travel one way, without using MIQ.
The countries this would apply to reflected the fact all three nations had experienced very few cases of Covid-19, she said. Tonga had seen zero Covid-91 cases, Samoa just one, and Vanuatu had four – all those cases having been at the border with no community transmission.
You can watch the media briefing here:
"We know our agricultural sector is experiencing challenges," she said. "We've heard the call from Primary sectors and others to bring in additional workers in a safe way and we think that is now possible.
"We'll be working through some of the detail including repatriation … so that we don't risk stranded workers."
The government is also looking at additional health precautions for the workers.
She said 150 workers were being brought in every 16 days but this would open up for significantly more.
The government did not know the exact number of additional RSE workers expected to come in, but Ardern there were about 7000 in New Zealand right now and the norm was about 10,000. One of the constraints is the one-way nature of the restriction-free travel, she added.
"Travellers would still undergo quarantine on return to their home country, as has been their home country's policy."
Immigration Minister Kris Faafoi told the media gathering he had been speaking to the industry, and businesses were keen to work with the government on ensuring there are enough workers to meet the demands of the horticulture sector.
The government in May announced an expansion of Recognised Seasonal Employer (RSE) and other seasonal workers into New Zealand, and in June announced an automatic six-month extension to Working Holiday and Supplementary Seasonal Employment visas, and expanded its categories to all industries.
However, industries have remained concerned at what they said was a continued lack of staff, with the hospitality industry in particular frustrated over visa settings, exacerbated by the resumption of restrictions for travel from Australia.
Unions have claimed the hospitality shortage is due to low wages or lack of a viable careers in the industry rather than lack of labour.
In April, a report found the RSE scheme was not a benefit to the wider economy.
The prime minister said she would reveal further changes to the border over the next six months, starting with a forum to share advice to the government from the advisory group led by Sir David Skegg.
Political reactions
The government's plan for RSE workers is the right one but should have come much sooner, National leader Judith Collins said.
"We called for a move like this back in March to allow workers from Samoa, Tonga and Fiji to New Zealand for work in our staff-stretched agricultural sector. At the time, Fiji, like Tonga and Samoa, had never had a community case of Covid-19. But, given the current outbreak in Fiji, bringing Vanuatu onboard makes sense.
"It's a good move but it should've happened much, much sooner. Our agricultural sector has been crying out for workers for a long time now, and they've paid a heavy price for the government's inaction."
She said the move should be extended to residents from those countries so they could visit loved ones.
ACT's Immigration spokesperson Dr James McDowall also praised the move but said it has taken too long.
"The Labour Party has left business owners in a state of distress for far longer than was necessary with some going to the wall or suffering from mental health problems as a result of the government preventing workers from coming here."
He said the government had only acted after taking a hit in the latest poll.
Meanwhile, a fruit company said it was good news but more details were needed.
Yummy Fruit Company general manager, Paul Paynter, said the industry needed 15,000 RSE workers at its peak season and some areas needed labour now.
He said employers needed to get paperwork sorted before bringing workers and authorities must process that faster.
Resource: RNZ