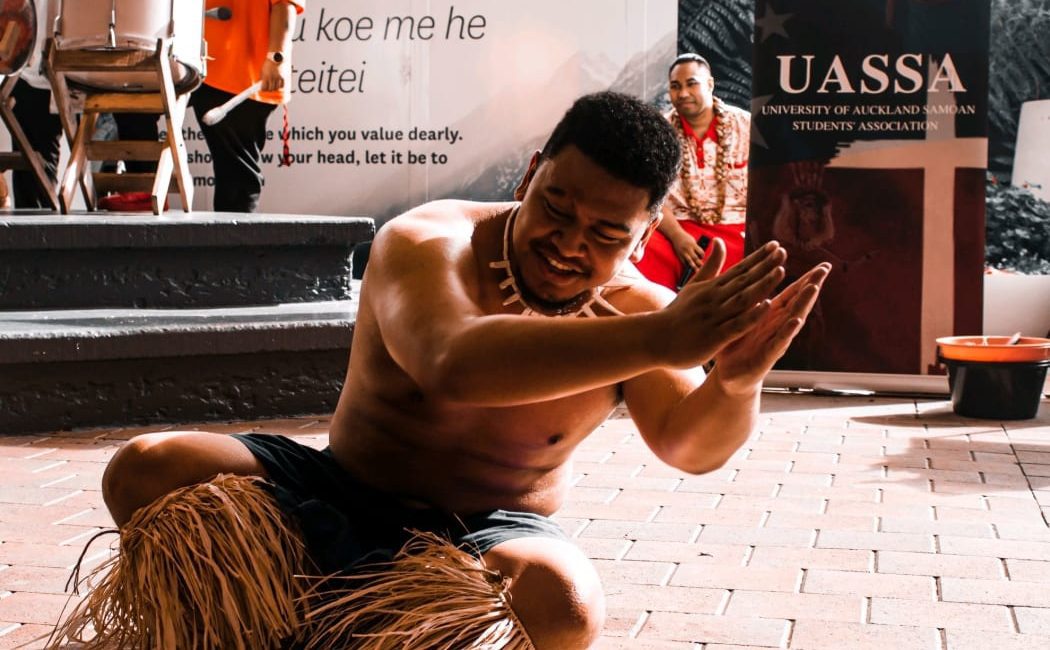 New Zealand celebrations for the 60th anniversary of Samoa's independence come to a close this week after days of festivity.
Public displays were a key feature of the celebrations, with young Samoans hosting parties and cultural events in school campuses throughout the country.
"We're showcasing a celebration of the 60th anniversary of Samoan independence when we gained freedom from colonial rule," said 21-year-old Nina Vaifale, president of the University of Auckland Samoan Students Association.
Vaifale was among dozens of Samoan students who gathered at Auckland Uni's quad last week where they hosted eating and coconut scraping competitions, and performed traditional dances and singing.
"This event is one of the ways we celebrate our ancestors, our grandparents, pretty much our past," said 21-year-old Samoan student Siona Vaisuimoso.
"If it wasn't for our grandparents and our ancestors, who strived to get Samoa's independence, we would not be where we are our today. You know they were brought up at a time when Samoa was not independent. At a time when Germany and New Zealand had taken over."
One of those brought up at that time was 71-year-old Sir Tuifa'asisina Bryan Williams. He was 11 years old when Samoa gained independence on 1 January 1962 – although the event is officially celebrated on 1 June.
"I remember that day," said Sir Tuifa'asisina, a former All Black and the first Samoan to receive a knighthood.
"It was cause for great celebration, particularly after what had gone on in the late 1920s and '30s with the Mau movement. It was a great time for Samoan people. It meant a lot for the country to be independent."
"A lot of our ancestors were killed during this time and we commemorate them," Vaifale said.
"I think it can be difficult living in diaspora when you've migrated as a child and living in New Zealand because it's New Zealand itself that Samoa gained independence from and so there is that generational trauma that we are working on breaking," she said.
It is a sentiment shared by 39-year-old Labour MP Anae Leavasa, whose generation bridges that of Vaifale and Sir Tuifa'asisina.
Leavasa said the current relationship between Samoa and New Zealand had progressed a huge amount compared with the past.
"My own family was really involved with the Mau movement, the struggle against the administration back then, but I see the legacy for us who now live in New Zealand. As someone who works for the New Zealand government, I carry that legacy with everything that I do," Leavasa said.
"The special thing with New Zealand and Samoa is that we have a Treaty of Friendship that was signed in the same year of independence. That treaty puts us on a good footing."
Coinciding with Samoa independence celebrations is Samoa Language Week, implemented by the Ministry of Education in 2007 to promote and preserve the Samoan language in New Zealand. It ran from 29 May to 4 June.
"Samoan language week means a lot to me as a young Pasifika university student because it helps us remember our Gagana (language) as well as our identity and where we come from", said Alofa Vaifale, who is 20.
For the older generation such as Sir Tuifa'asisina, efforts to preserve Gagana among the younger generations are a far cry from the cultural taboos of his time.
"I was brought up at a time in New Zealand when it wasn't encouraged. It's a great regret but I haven't learnt it. It's really important. I have a number of grandchildren who can speak Samoan so it's certainly coming out in the new generation of Samoans and they are proud of it.
"Lots of Samoans have achieved great things in New Zealand. I was in a room the other weekend at a Moana Pasifika rugby game.
"There were so many people in that room who had achieved big things in New Zealand. There were parliamentarians and vice chancellors of universities, so we have broken through the glass ceiling. I think it's fair to say that we're celebrated in New Zealand now."
Source: RNZ