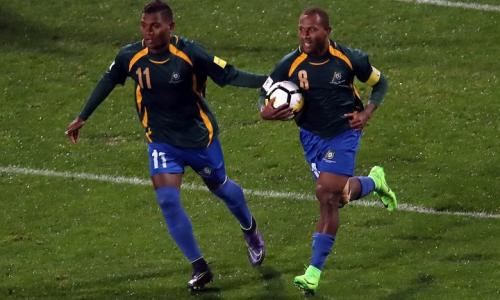 Solomon Islands football coach Felipe Vega Arango has lamented the gap between New Zealand and the rest of Oceania.
The All Whites thrashed Solomons 6-1 in the first leg of a World Cup qualifyer in Auckland on Friday.
Vega Arango said the game between the two strongest teams in the region was a mismatch.
"6-1, it could have been 9-1. I am not afraid to admit it because Philip Mango the goal keeper was wonderful. He's 22-years-old and I think if he keeps progressing like this he's going to be able to make some money playing football," said the coach.
"New Zealand was superior … the gap between both teams was very easy to see."
The Solomons only goal came from a Henry Fa'arodo penalty.
Following the defeat, Vega Arango's had all but written off the Solomon's chances in the second leg on Tuesday in Honiara.
"If we go to Honiara, and we beat them one-nothing – for me it's like winning the World Cup … because amateur players are winning [against] professional players."
"But it's pretty obvious that, I shouldn't say this, but this is kind of over. We are not going to beat New Zealand five-nothing," he said.
The coach said he still expected spectators to flock to Lawson Tama stadium for Tuesday's return leg for a chance to see New Zealand's professional players in action.
After scoring three goals in the first leg, the New Zealand captain Chris Wood was released back to his English premier league side Burnley and will not travel to Honiara.
Source: RadioNZ