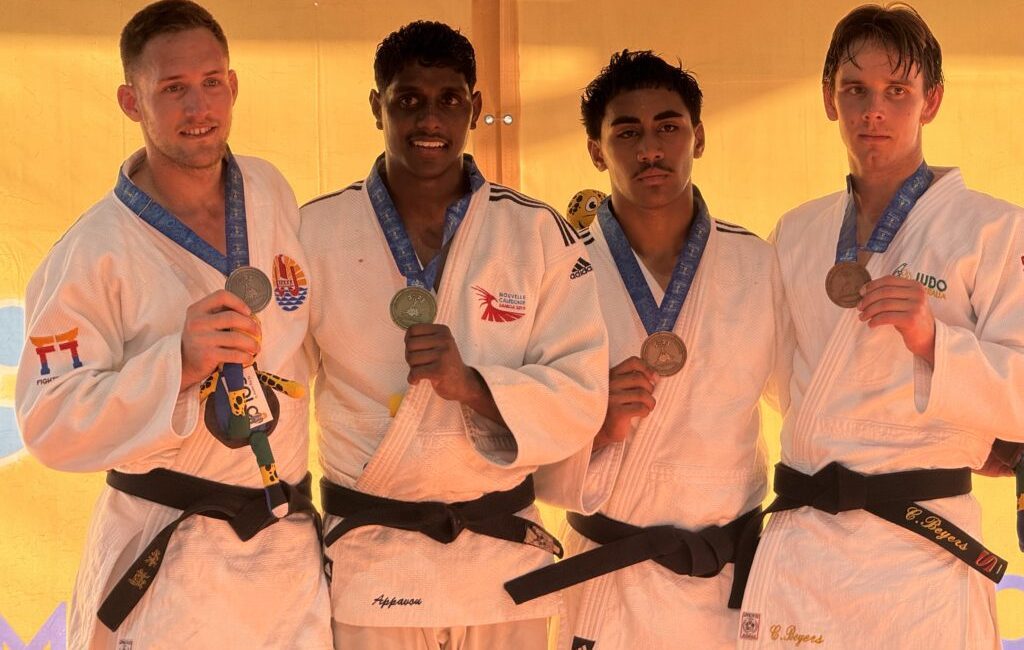 Australia and New Caledonia dominated day one of the judo competition at the Sol2023 Pacific Games in Honiara, winning a combined total of seven of the nine medals on offer on Monday at the SIFF Academy.
Australia didn't need to wait long to get their first ever Pacific Games judo gold medal with Ryan Koenig beating New Caledonia's Cedric Jaszczyszyn in the men's 73kg final.
Danny Vojnikovich also won gold for Australia in the men's 90kg, while Saya Middleton introduced herself to the Pacific Games podium with an impressive showing in the women's 70kg final.
"It was really great to be able to come here to Solomon Islands, I am really happy with my medal and I think the team is pretty happy overall," said Middleton.
New Caledonia's 22-year-old judoka, Jaycee Brival, appears to have grown in experience and confidence since the Samoa 2019 Pacific Games and claimed her country's first Sol2023 Pacific Games medal – gold in the women's 57kg finals.
"I am so proud to win New Caledonia's first gold medal here at this Pacific Games and it is a great achievement for me in my career," she said.
"I've been involved in this sport for over 12 years, and with this year's Games we are really prepared for this competition, and we arrived two days early to adapt to the venue," she added.
Other golds for New Caledonia were won in the men's 81kg and men's 100kg.
It was an all-Tahitian affair in the women's 63 kg as Samoa 2019 bronze medalist Teraimatuatini Bopp went two steps higher up the podium to win gold by defeating a fellow teammate in the gold medal match.
Tahiti's other gold was won by Sailosi Ealelei in the men's 100kg+ category.
The Sol2023 judo competition concludes on Tuesday, with the mixed events set to entertain judo fans across Honiara. The action begins at 10am at the SIFF Academy.
By Timothy Inifiri Jnr, Philip Robo, Jeffson Aghi and Joyce Koiari, Pacific Games News Service