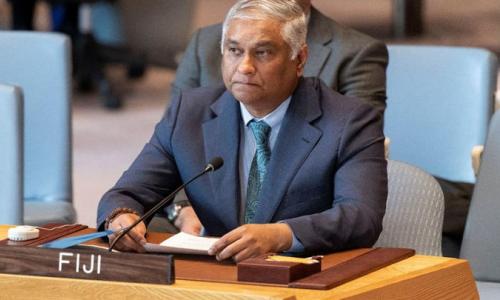 Fiji has called on the United Nations to help small island states facing the double burden of climate disaster and Covid-19.
Fiji's permanent UN representative told officials meeting on Universal Health Coverage that the onus was inequitable.
Satyendra Prasad reminded officials of the 2019 commitment by world leaders at the General Assembly to extending health coverage.
Mr Prasad called on UN Ambassadors, WHO officials and others to make good on that commitment, especially in Pacific small island states.
He called for equitable access to international healthcare and cohesive support to address the dual crises of climate and coronavirus.
Mr Prasad told officials how Fiji found itself faced with twin crises while coping with Cyclone Harold, one of the worst storms on record, amidst the spread of Covid-19.
He said despite the challenges Fiji was on its way to eliminating the virus entirely.
However, he reminded the UN audience that Covid-19 exposed fragilities in the health system that put its Sustainable Development Goals at risk.
Mr Prasad said with the climate crisis remaining a pressing health challenge for the region, Covid-19 could overwhelm many countries' health systems.
Source: RNZ