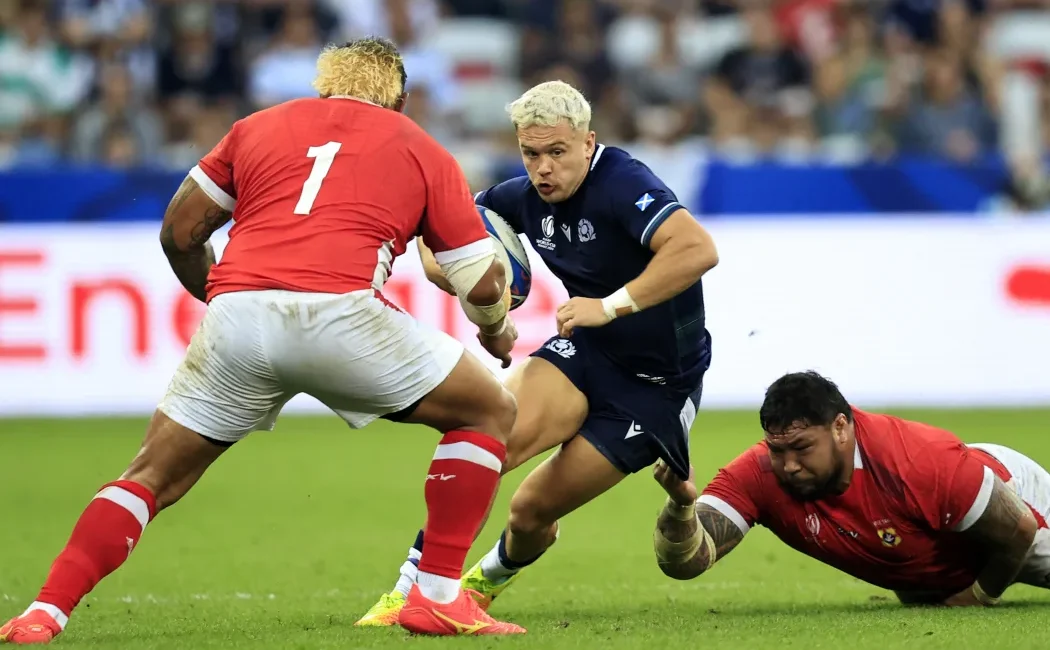 Tonga is out of the running for a Rugby World Cup quarterfinal spot as they were outscored and outpointed by Scotland 45-17 at Stade De Nice in Nice on Monday morning.
Scotland won full points from the game scoring seven tries for a bonus point while Tonga managed to get two tries on the scoreboard.
While Scotland led 24-10 at halftime the game was anyone's going into the second half.
Captain Ben Tameifuna dived over after Solomone Kata had countered from a Scottish long kick and the former Mate Ma'a Tonga winger set up a ruck in front of the Scotland tryline.
Tameifuna scored and William Havili's conversion reduced the scoreline to 24-17.
But an option from Tameifuna for a kick towards touchline with a kickable penalty for Havili inside the Scottish 22-metre line backfired and the Scots opened up the scoring with three tries after that.
Tonga looked beaten mid-way through the second spell and were barely hanging on as the game progressed.
In frustration number eight Vaea Fifita hit a ruck illegally and was sent off with a yellow card adding to the earlier one on Afusipa Taumoepeau in the first half. That was upgraded to red after the game, which means his World Cup is now over.
In the end, Scotland had done enough to keep their hopes alive of a possible quarterfinal berth, even though they have Ireland to beat on the way there.
Tongan captain Ben Tameifuna said it was mixed emotions and feeling after a tough rugby battle.
But he was still proud of the team and the effort they put in, saying the scoreline did not do justice to what they threw into the game.
"Bit of mixed emotions and feeling," Tameifuna said.
"The boys played with their hearts out there. I know the score does not reflect how much effort we put in throughout this week. I said to the guys you can't afford to give away easy penalties like that against Scotland with the amount of firepower the backs had.
"They just capitalised on it and I think against South Africa we just have to look at ourselves in the mirror and we can't afford to give away easy penalties like that. But I am still proud of the boys we fronted right up to the 80th minute."
Head coach Toutai Kefu said although they are out of the running now for a quarterfinal spot they will play with pride as they had always wanted to do for Tonga, the King and his people.
He said the players let on some easy tries but he was generally happy with how they played, especially on defence, which they were doing a lot of times in the game.
"We've always based our pride on our performance and that's always what we we wanted to put out on the field, and we wanted a performance that not only us but family and the country is proud of.
"I think the boys did that largely. Again we let in some easy tries but there were some really defensive efforts where the boys were absolutely onsong and held out the opposition team for some period.
"I think we are tracking the right way, we will take each game as it comes and I think we have always said that.
"South Africa provides us a massive challenge. We don't get to play the Springboks often so the boys will be up for that no doubt."
He said he was happy that the team improved from what they did against Ireland in their first pool match.
"The biggest difference between both games was we got some balls to fire some shots, we took some opportunities and scored a couple of tries.
"There were probably a couple of opportunities that we missed and we were just not able to sustain pressure on them."
Game progress
Hooker George Turner opened the scoring in the first half when he dotted down after he was driven over by his fellow forwards to give them a perfect start on five minutes.
Finn Russell converted and Scoland led 7-0 before Havili kicked a penalty and reduced the scoreline to 7-3.
Then winger Solomone Kata raced clear after experienced Malakai Fekitoa and Charles Piutau combined to put the former Mate Ma'a Tonga winger in the clear. Havili converted and Tonga was in the lead 10-7.
Wingers Duhan van der Merwe and Kyle Steyn bagged quick tries before flanker Rory Darge secured the bonus point on the stroke of half-time after wing Afusipa Taumoepeau was yellow carded.
Skipper Tameifuna smashed his way through the Scotland defence to bring his side within seven points, but tries from replacement scrum-half George Horne, full-back Blair Kinghorn and replacement wing Darcy Graham sealed their first win of Rugby World Cup.
Mastercard Player of the Match Van der Merwe spoke said it was tough.
"It was pretty tough out there for the first half an hour," he said post-match.
"I don't think I've ever been hit like that before. But with boys like Finn [Russell] giving me opportunities, it's just amazing."
Scotland's stand-in captain Russell said the bonus win gives them hope of getting into the quarterfinal.
"We're going to have to get better if we want to stay in this competition after the group stages but we got what we needed tonight, which was a bonus point win."
Scots dominate stats
Scotland dominated the statistics in the game.
They claimed 59 percent of possession and 64 percent of territory.
They had 335 balls in hand and attacked hard during the game, while Tonga only managed 190 balls to attack with.
The Scots carried the ball over 1095 metres compared to Tonga's 528 and made 47 tackle breaks, against 11 that Tonga managed.
Tonga made 152 tackles against Scotland's 110 and missed a total of 47 tackles. Scotland was more spot on with their tackles, missing only 11 in the game.
Tonga coach Kefu said the statistics were against them but they defended well when they could and missed a couple of one-on-one tackles also.
Scotland will now meet Romania and will play Ireland in their last pool match while Tonga gets to tackle defending champions South Africa and then Romania in their last game.
Source: RNZ