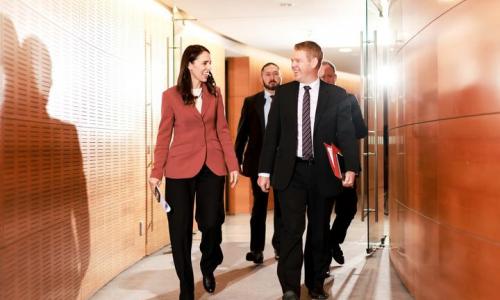 The Cook Islands bubble will open later this month, allowing two-way quarantine-free travel between both countries, Prime Minister Jacinda Ardern has announced.
Cabinet ministers have this afternoon signed off on a 17 May start date, pending final confirmation by New Zealand's Director-General of Health and the Cook Islands Secretary of Health.
It will be subject to final checks such as airline and airport preparedness.
New Zealand would be providing the Cook Islands with enough vaccine to immunise its population. That roll-out would also commence later this month but is not considered a pre-condition for the bubble.
"There is no vaccination under way in the Cooks," she said, but the population in Rarotonga was worth one day's vaccination in New Zealand.
As for travel between Australia, Cook Islands and New Zealand, she said at this stage, the Cook Islands were asking anyone travelling from Australia to go via New Zealand, but that could change.
"Having that triangular movement is something we are very open to."
There will be no requirement for a pre-departure Covid-19 test, but travellers will have to complete a travel declaration, provide a health declaration and there will be random health checks at airports.
No one should travel if they are unwell, if they are waiting on a Covid-19 test, or if they have been in contact with anyone suspected to have Covid-19.
Ardern said there were talks of about two or three flights a week from New Zealand to the Cooks this month, which would then scale up.
A huge amount of work had gone into ensuring the two-way bubble was safe and that the Cook Islands was set up and ready for it, she said.
"This is a world-leading arrangement and it's important to remember many other countries still have bans in place on travel for holiday purposes."
In a statement, Cook Islands Prime Minister Mark Brown said it was the start of a journey of recovery.
"Today we get back to business. Today with our joint confirmation of the 17 May, we give our people, and particularly our industry, the certainty necessary to institute remaining preparatory steps to once more welcome visitors to our shores."
The announcement has been a long time coming, after Ardern initially promised the arrangement would be in place by the end of March.
Cook Islanders have been able to fly into New Zealand without quarantine since January.
As for travel bubbles with other countries, Ardern said the government was looking at the realm countries first.
"For Niue, when they're ready, we're ready."
Covid-19 Response Minister Chris Hipkins said the government had a "brief" conversation around repatriation flights but no decisions were made yet.
He said flights were still not operating from India and "our decisions on repatriation will very much depend on how long those restrictions go on for".
"We'll review it each week."
Relationship with China and its treatment of Uyghurs
Earlier today, Ardern made a speech to the China Business Summit, discussing the two countries relationship. It comes amid a diplomatic flurry after Foreign Minister Nanaia Mahuta pointed out in April New Zealand was not always "comfortable" joining other Five Eyes countries' statements.
Ardern this morning had said New Zealand's government had in the past year chosen at times to raise some issues with China in private, and at other times made public statements alongside organisations or countries that shared the country's values.
"And sometimes we spoke out alone … New Zealanders expect their government to take a principled stance on issues, particularly where our values are at stake – I know this because I hear it directly from them.
China has been under international pressure over its treatment of Uyghurs, an ethnic minority native to an area in China's northwest, which successive governments have been declaring a genocide.
This afternoon, Ardern made a general statement on genocide.
"There are a set of legal definitions that sit around the use of that word. In New Zealand, we have used it on three occasions: Nazi Germany, Rwanda and Cambodia.
"In order to meet the international test often that has required the ability of that verifiable additional international information.
"One of the reasons why New Zealand has repeatedly called for unfettered access … to the region in order to assess potential human rights abuses for the Uyghur people. That is not to say that there isn't credible evidence of human rights abuses already, there is. For issues around genocide, that is one of the things you usually see precede the use of that definition. Those are some of the factors we'll be thinking about as we consider that motion."
China's ambassador to New Zealand Wu Xi has acknowledged the long-standing relationship, while issuing a direct warning against "interfering" in China's "internal matters", specifically citing Hong Kong and Xinjiang.
The ambassador, who was at the summit, dismissed talk of forced labour and genocide as "lies fabricated" by anti-China forces "without any evidence", intended to simply "disrupt" the development of Xinjiang and "China as a whole".
Pharmac child cancer drug funding decision
On Pharmac's decision to possibly change child cancer drug funding, Ardern said it was not up to the government.
"We should never politicise the funding of drugs in New Zealand".
She said Pharmac now had more than a $1 million budget.
"As a result of the increase in funding, they have gone through and continued to fund additional drugs that they see necessary.
"They have within those parameters funded those cancer drugs for children. What's being challenged here is the idea of whether they should fund all drugs for all children across a range of different issues."
He Puapua Report and 'separatism'
On Judith Collins' comments on the He Puapua report, Ardern said Cabinet had not received the report. It had only been sent to the minister.
Collins made a speech to party members over the weekend where she said the report was evidence that Ardern's government wanted to create separate systems of governance.
Her speech on Saturday doubled down on a stance she pushed on Morning Report on Friday, and bears resemblance to Don Brash's "one law for all" speech at Ōrewa in 2004, which she specifically quoted.
Ardern said it was purely political.
"I consider it hugely disappointing that we have debates of this nature whenever it seems the National Party are in opposition and at a particular point in the polls," Ardern said.
"I see it as nothing more than pure politics."
The Māori Health Authority would work with the health system, Ardern said, and it was a fact that "Māori die younger in this country" and the new authority would help outcomes for Māori and non-Māori.
Resource: RNZ