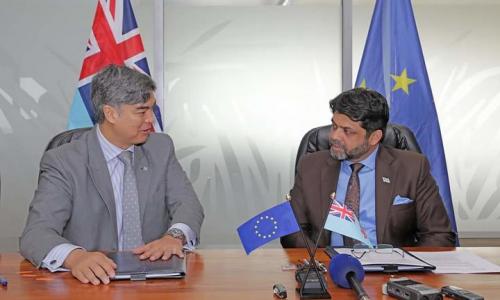 The European Union has allocated a budget support of more than $US20 million to help the Fiji Government tackle the Covid-19 and climate change crises.
EU Ambassador to the Pacific, Sujiro Seam, says the coronavirus pandemic has forced people to return to farming to "put food on the table" and it's important the EU's support focuses on these families. Mr Seam said the assistance will also help sustain rural livelihood programmes over the next three years.
He said" the new strategy will aim at creating value, creating job opportunities, diversifying, coping with the challenges of climate change as well."
Mr Seam said the EU's financing agreement with Fiji will also focus on other critical sectors in the country.
The ambassador said the assistance indicated the strength of the partnership between Fiji and the EU. Mr Seam said the EU and Fiji relations were "very strong" because they were based on "common values, democracy human rights support to the multilateral systems and shared priorities in particular when it came to climate change and oceans."
"We trust the capacity of the government of Fiji to face the consequences of current Coronavirus outbreak," he added.
Boost for Agriculture
Minister for Economy, Aiyaz Sayed-Khaiyum, said the EU's support would help sustain Fiji's ailing economy.
Mr Sayed-Khaiyum said there had been a huge change in the agriculture sector in the last two years.
He said the agriculture sector is a key component of Fiji's export market.
"This is not the first time they are providing support to us in terms of direct budget support," he said. "Obviously it's an affirmation of the fact that they have confidence in the way we manage our economy, the way that we manage our financial system."
Mr Khaiyum said over 70 percent of the freight taken out of Fiji is agricultural based.
Covid-19 pandemic
Meanwhile, the EU ambassador praised Fiji's efforts in its fight against the pandemic.
Fiji has had 18 confirmed cases of the virus and no deaths.
On Thursday, Prime Minister Frank Bainimarama said the last of Fiji's active Covid-19 patients had been cleared.
Mr Bainimarama confirmed this on his Twitter official page saying "even with our testing numbers climbing by the day, it's now been 45 days since we recorded our last case.
"With no deaths, our recovery rate is 100 percent. Answered prayers, hard work and affirmation of science," he tweeted.
Source: RNZ